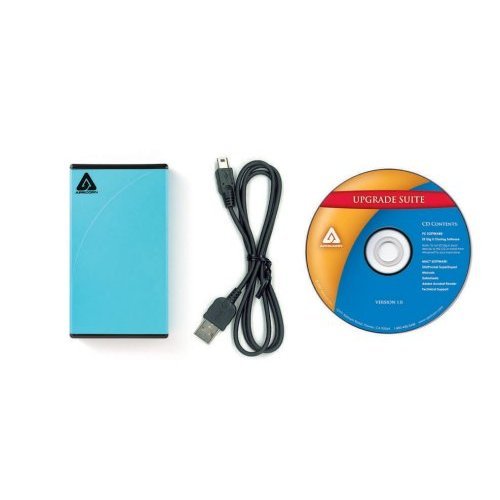 EZ Upgrade Universal Hard Drive Upgrade Kit for Notebooks
EZ Upgrade Universal kit makes upgrading your notebook your PATA/IDE or SATA hard drive as easy at 1-2-3. This innovative notebook hard drive upgrade kit includes universal USB 2.0 enclosure that will work with both PATA/IDE or SATA hard drives and the Apricorn Upgrade Suite software allowing you to painlessly transfer all the data from an old hard drive to a new hard drive in three easy steps.First, slide the new hard drive into the EZ Upgrade enclosure, using the included USB cable; connect the EZ Upgrade to the notebook's USB port. Next, run the Windows or Mac cloning software using the bootable CD and follow the prompts. Finally, install the new hard drive into the notebook, complete with operating system, favorites and all your files and folders just the way you like them.Once the new drive is installed, the old drive can be used in EZ Upgrade's Hi-Speed USB 2.0 enclosure for external storage. When used with Apricorn's Upgrade Suite EZ Gig II backup software, the external drive becomes a state-of-the-art backup solution.
EZ Gig II for 64bit versions of windows is avaliable via download.
Due to the nature and uses of this product, we are no longer accepting returns on this item for credit. If you receive a DOA product, we will gladly replace it within 14 days of the date of purchase, but will no longer allow a return for credit on an open package. We apologize for any inconvenience.